There are not many towns in England that can boast of the history and heritage of Dorchester. The oldest settlement in the area dates back to the iron age fort at Maiden Castle. The defeat of the local tribes by the Romans lead to a more formal settlement in what we now know as Dorchester. The large earthworks known as the Maumbury Rings (pictured above) also date back to this period and were used by the Romans as an amphitheatre.
Today Dorchester is mostly known as the home town of Thomas Hardy who was born a few miles away at Higher Bockhampton in the parish of Stinsford. He lived most of his life in Dorchester using his detailed descriptions of the local area to bring his dramatic stories vividly to life. The Dorset Museum recreates his study and has a fine collection of his posessions. On his death, Hardy's heart was buried in Stinsford while the rest of his body was buried in Westminster Abbey London.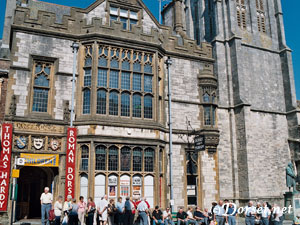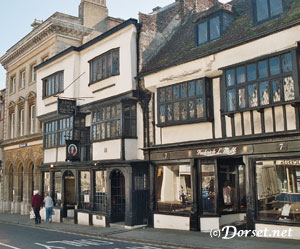 In 1685, the infamous Judge Jeffreys also stayed in Dorchester following the Duke of Monmouth's failed rebellion (which landed in Lyme Regis) sentencing a large number of the prisoners to execution or transportation to the colonies. The building he stayed in is now a restaurant named after him as pictured on the left.
Other attractions in the town include the Dorset Military Museum and a small Tutankhamun exhibition in a converted chapel.
Dorchester is a very appealing thriving town which remains largely unspoilt. It is easy to see why it is a popular destination for many visitors.