From an initial look at a map, it is easy to see why Poole has developed as a port. It has a natural breakwater with the harbour providing a sanctuary from the strong winds of the English channel.
There has been settlement in the area from the iron age, but it was not until the 13th century that it was referred to as Poole. Over the centuries the port has developed, being involved in the wool trade and later in the D Day landings of the second world war. Today the port has a few ferries, but most of the harbour is used for pleasure boating and other leisure activities.
Poole is an ideal setting for sailing and it is being used as the sailing venue for the London Olympics in 2012.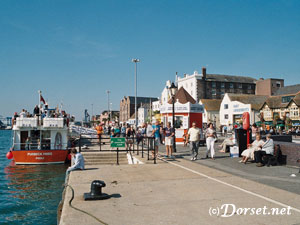 Poole Quay is another place that attracts the visitors with its timeless pubs and seafaring atmosphere.
However that is not the sum of its appeal. Sandbanks beach is a fine beach to relax. It also has some of the most exclusive and expensive houses in the country with a cast of celebrity and wealthy owners.
With this combination of factors and the excellent travel links including the nearby Bournemouth airport, there is no doubting that Poole will continue to be a popular resort in the future.